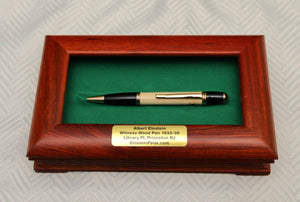 This handsome rosewood box displays your Einstein Pen perfectly.
The brass colored label reads: Albert Einstein, Witness Wood Pen 1933-1935, Library Pl. Princeton NJ, EinsteinPens.com."
Interior cloth pen bed colors can be changed and currently come in red, black, gold, green and purple.
Box dimensions are 8.5"x 5" x 2."  Glass top display 3" x 6."
Pen not included.